Dogs have always been considered man's best friend. His loyalty, devotion and affection make him an ideal companion. This gentle and pleasant animal stands by us during all the moments of our life, in the best and in the worst.
So if you want to give your child a pet, a dog would be perfect. However, a doggie is not necessarily suitable for all ages. It's not an object or a thing! It is a living being. And like all of us, it needs presence, attention and care. In other words, it will need long-term commitment.
Will your child be able to provide it? Not sure, since he is still your responsibility!
So what's the solution? How can you please your little one with a dog without imposing on him the related responsibilities?
A plush dog of course! But not just any dog toy. To make it look real, we'll opt for interactive stuffed animals: these electronic stuffed dogs that can bark, wag their tails or even walk.
You want one for your toddler? It's a good thing, because in this article we propose a selection of the best interactive dogs. You will surely find one that your little one will like.
Top 5 of the best walking plush dogs
For a child, having a stuffed dog is good. But having a plush dog that walks is even better! Why? Simply because this type of toy can come alive in any room and interact with its little owner. Your toddler will have a cute companion to play with and have fun with. He will never feel lonely again.
In short, if you haven't found the perfect robot dog for your child, here are some ideas that should interest you:
Yosso Husky dog plush that walks and barks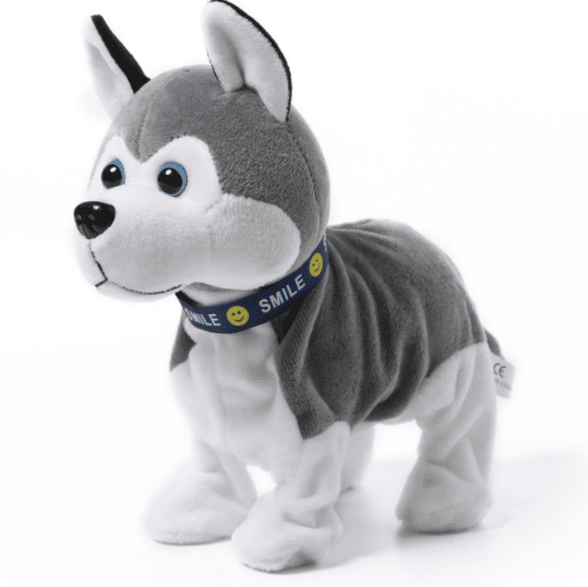 Here's an adorable interactive plush dog that is sure to delight your child! At first glance, it looks like an ordinary stuffed dog, a soft and cute Husky Yosso.
But as soon as you flip the switch on his abdomen, he quickly transforms into an interactive husky. Make any noise and this robot dog will react immediately.
Among other things, he can walk, run, stand up, do push-ups and even bark. In total, he can perform up to 8 different movements, enough to entertain the little ones when you are busy doing something.
This interactive dog is made of soft, comfortable fabric. So your toddler won't get hurt by cuddling or coaxing.
Ideally, this plush toy is best given to a child over 3 years old. That said, it is also suitable for a child of a younger age. But in this case, you will have to make him play only in your presence.
Finally, this plush husky is powered by 4 AA batteries. They are easy to install and replace in case of failure. This medium-sized electronic dog is also easy to carry and can accompany your child on trips or to friends' houses.
Plush poodle puppy that walks and wags his tail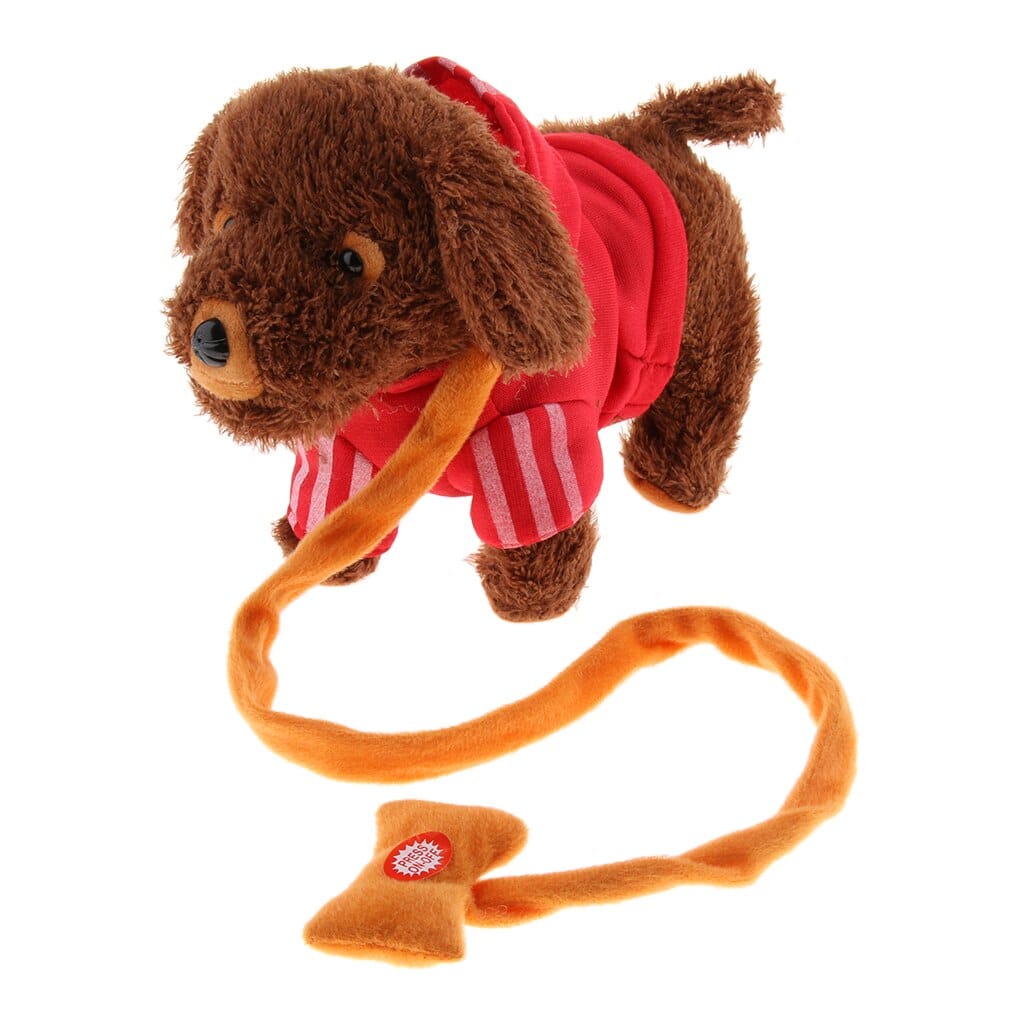 This cute poodle puppy will be your little one's new best friend. Cute and realistic, it looks like a real little doggie. However, it is a plush dog. And what's for sure is that your child will love it.
This adorable interactive puppy will be able to accompany him in all the rooms of the house to play. And for that, he won't need to carry him! This cute little poodle can walk by itself. All your toddler has to do is hold it on a leash.
Equipped with a remote control leash handle, this plush walking dog is also easy to train. He smiles all the time. And when he's happy, he wags his tail. It's impossible not to fall for his charm.
Finally, this adorable robot dog runs on 3 AA batteries. Small size, it is very easy to carry. This toy will be perfect for a child of 3 years old or more.
Plush Chihuahua dog that walks and sings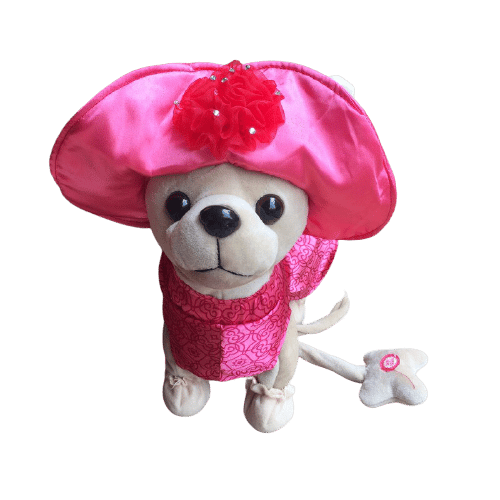 This is a great companion for your little girl! This cute Chihuahua puppy will play with her all day long. She won't get bored with the beautiful and adorable song of this plush Chihuahua.
Yes, this charming little puppy can sing. But not only that! He can also walk. And since he's a dog, he can obviously bark. In short, your little girl will see him as a real dog.
Want to please your little princess for her birthday? This plush dog is a nice gift that she will definitely appreciate.
Designed for girls ages 3 and up, she's cutely dressed and never loses her purse. Your daughter will love taking her out to play or to run errands.
This interactive Chihuahua will do anything to put a smile on her face. With its soft, cozy fur, baby will even be able to kiss and cuddle it.
Finally, this baby pet is powered by 3 AA batteries. It measures 30 cm tall, which means your little girl can take it with her when she goes on a trip. She won't leave her cute blankie behind.
Teddy plush dog wags his tail while walking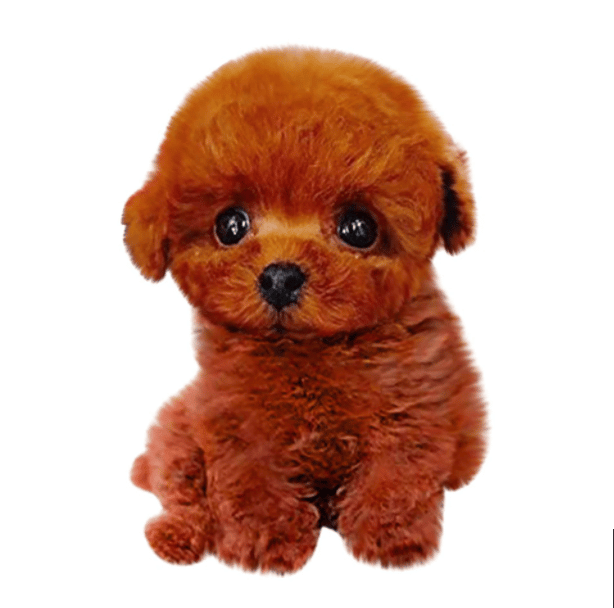 This Teddy dog plush is ultra realistic! It's hard to tell the difference with a real dog. And without a doubt, your child will love it, whether he is a girl or a little boy.
Ideal for a child from 2 to 4 years old, this cute puppy is very tender. With his soft fur and his innocent eyes, we have only one desire when we see him: to caress him and cuddle him. For sure, this animal will offer a lot of tenderness and love to your child.
Otherwise, Teddy is also a very responsive stuffed toy. When you touch him, he screams. And of course, he can also walk.
When you insert his batteries, Teddy gets all happy. And to show you how happy he is, he walks while wagging his tail.
Finally, it's good to know that Teddy is a handmade plush. He is up to 30 cm high and easily transportable.
Plush puppy that walks, barks and nods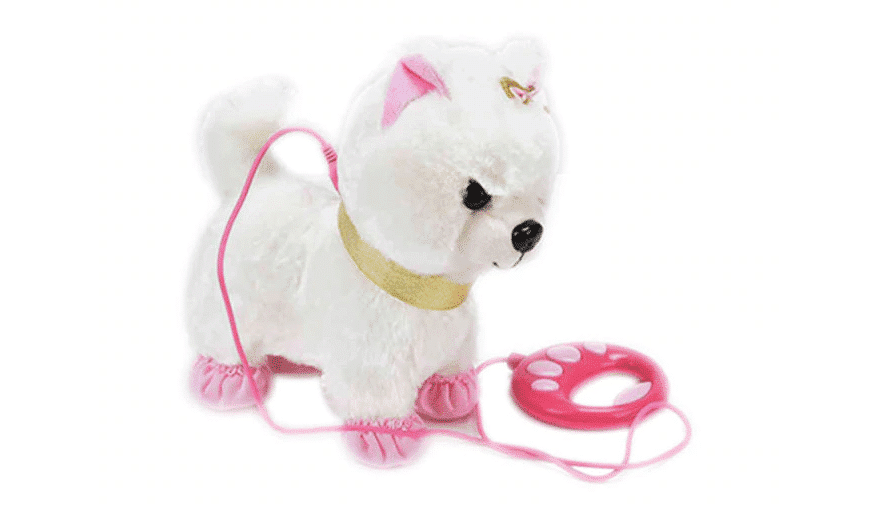 Here's an interactive plush dog we love! In addition to his beautiful figure, this cute little puppy will also seduce you with his soft and smooth fur. Your child will be able to cuddle and cuddle him without the risk of irritation or suffocation.
Reactive and responsive, this interactive plush will react to every command from your toddler. If he tells him to walk, he walks. If he tells him to wag his tail, he will.
This adorable puppy can also bark. And if you tell him to, he can act like a spoiled child. In short, he looks like a real puppy. Your child will love walking him on his leash.
By the way, besides the sound control, it is also possible to control him from his leash handle with remote control.
So, are you interested in this plush walking dog? You can give it to a child of 3 years and older. It only needs 3 AA 1.5V batteries to work.
How to choose an interactive plush dog ?
Your child is asking for a dog? That's a great choice for a pet! But for a young child, giving a real dog is not very recommended. It will be just another burden for you.
While waiting for him to grow up a bit more, you can give him a stuffed dog instead. And in this case, an interactive model that can bark and walk is better.
Very fashionable nowadays, an interactive plush dog is indeed able to behave like a real dog. And the models offered by the manufacturers are more and more varied and intelligent.
If you want one for your toddler, you'll have no trouble finding one. Still, choosing a toy of this kind is difficult. To make the right choice, you need to look at different criteria, including the following:
The type of stuffed dog
This is obviously the first point to consider! If you are looking for a plush dog for your child, you probably already have a certain type in mind: a small dog, a big dog, a Dalmatian, a poodle, a Chihuahua, a bulldog… Whatever your taste, it must be adapted to the size and age of your child.
The ordering method
This criterion is also very important! Indeed, the comfort of use of the robot dog will depend on it. In general, you can choose between three main types of control:
The leash control: a walking plush dog can be accompanied by a leash at the end of which is a remote control to guide and control the toy.
Wireless remote control: more advanced, this type of stuffed animal can be controlled via a remote control, smartphone or tablet. Some models offer an option to program movements.
Interactive control: this is the most advanced method in the field of interactive plush toys. In this case, the toy is equipped with sensors and artificial intelligence that allows it to easily interact with its environment. Thus, you will not need to command it to move, bark or walk.
The possible movements
This is also a point not to be neglected. Certainly, our article talks about plush dog walking. However, there are still several other movements that a robot dog can perform. Among others, we can mention barking, dancing, singing… The more movements the doggie can perform, the more fun it will be for the child.
Safety
Last but not least, safety must absolutely be one of your priorities. Indeed, it is important to choose a plush dog whose sculpture and materials could not harm your child's health.
For example, choose a plush dog made of cotton and with batteries that are inaccessible to children.
Conclusion on the best walking plush dogs
A walking dog plush will be perfect to keep your child company. More than just a toy, it will help him feel less lonely. He will be able to play with it and walk around whenever he wants. This interactive plush will help him get used to the company of a dog. Later on, he will be able to adapt to having a real dog by his side and take on all the responsibilities that come with it. The key is to choose a stuffed dog that he likes and helps him develop these qualities. And to find one, we have only one address to give you: Magic-plush.com