Is your baby feeling a little lonely? It might be a good idea to give her a friend to keep her company. A pet would be perfect. However, your little one is still too small to play with and care for. So a stuffed toy will do the trick better! And what better way to dispel feelings of loneliness than with a talking stuffed animal?
With an interactive plush toy, your baby will have a good friend to talk and play with. He'll gain a loyal companion who will bend to his will and accompany him on his adventures. Your toddler will be happier and more fulfilled.
All you have to do is find an age-appropriate model that he'll enjoy and that will help him have a good time.
To make it easier for you, find in this article our selection of the 5 best talking stuffed animals and their respective characteristics.
What are the best talking cuddly toys for baby?
There are many talking cuddly toys for babies! But the ones we are going to present to you in this article are the ones we think are the best. Why is that? You will find out as you read the description.
The parrot plush that talks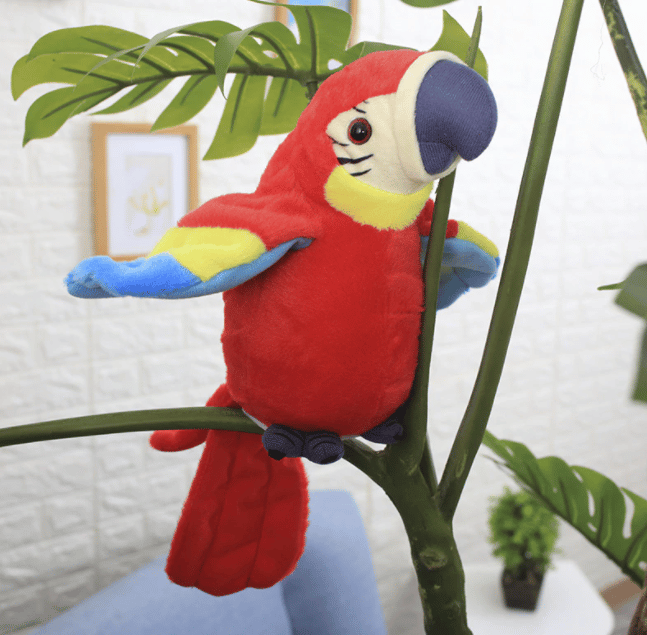 A parrot, it talks for the most part! And it's always fun to listen to it talk. But you're probably not going to give your baby a real one.
Instead, we recommend this talking parrot plush. It looks like a real parrot. The bird has a long beak, a funny smile and colorful body and wings. It's hard to tell it's an electric parrot. Your child might even think it's the real thing, as the resemblance is so striking.
Otherwise, it's a stuffed parrot that's a little out of the ordinary. Like a real parrot, it can talk. Make conversation with him and you'll see that he'll respond to you.
Better yet, he can dance by shaking his body and wings. This interactive parrot can also repeat what you say in any voice or language. You laugh, he'll laugh with you too.
In short, with this talking bird plush, your child will not be bored anymore. He'll have a friend to play with and talk to whenever he wants.
Baby will even be able to cuddle it if he wants to. The toy has a warm, soft and hypoallergenic fur. It will offer tenderness and love to your little one.
Finally, this electronic parrot is recommended for children of 3 years and older. It is powered by 3 AAA batteries and has an ON/OFF button to activate it.
The talking Pikachu doll plush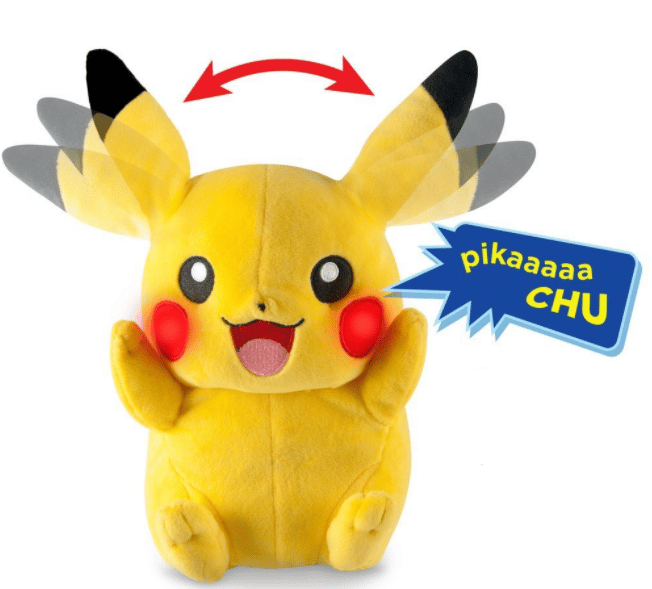 Does your child already love the adventures of Pokémon? Then this talking pikachu plush is sure to please.
It looks just like the Pikachu from the cartoon. The only small difference is that it is real. Your child can touch and cuddle it. He'll love the soft, pleasant sensation of touching his skin.
Best of all, this plush Pikachu can talk. Press his belly and he'll start talking, lighting up and moving his ears. It feels like the real Pikachu you see on TV. This talking Pikachu doll plush will amaze your little one with his usual cry of "Pika? Pika-pika, Pikachu!".
In short, it's an adorable and beautiful talking plush. It will be perfect as a gift for a child from 5 to 15 years old.
The talking, singing and walking unicorn plush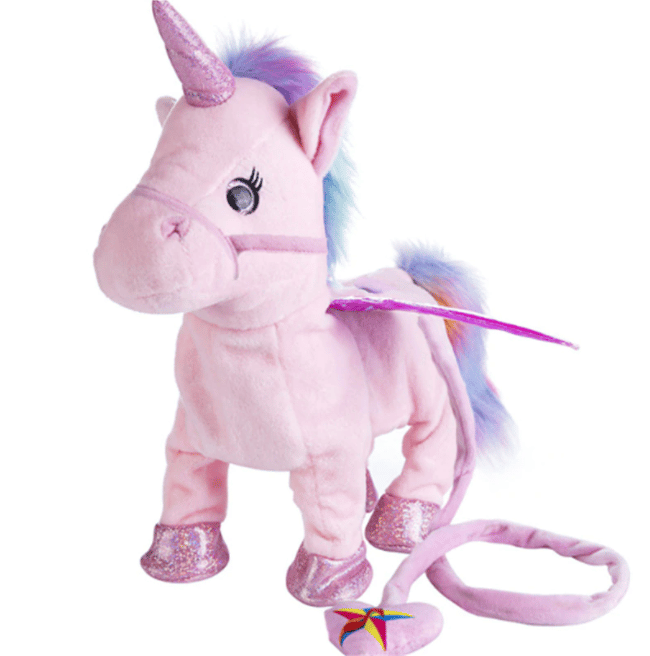 Does your little girl love unicorns? Then this is a great gift that is sure to please her! This plush unicorn is not only adorable! She's also smart and talented.
It's a talking stuffed animal. During her free time, your daughter will be able to chat with her unicorn friend. She will say something and the toy will repeat it. The animal can also learn the sound of horses while singing.
In fact, this interactive unicorn can sing. Ask her to do so and with her sweet and beautiful voice, she will sing at least 2 English songs. Your little princess will love it.
Does your child like to play in every room of your house? Well, his unicorn plush can also accompany him. And for that, there will be no need to carry it. The toy can walk by itself. He will signal when he can't take it anymore!
The shy teddy bear that talks and plays Peekaboo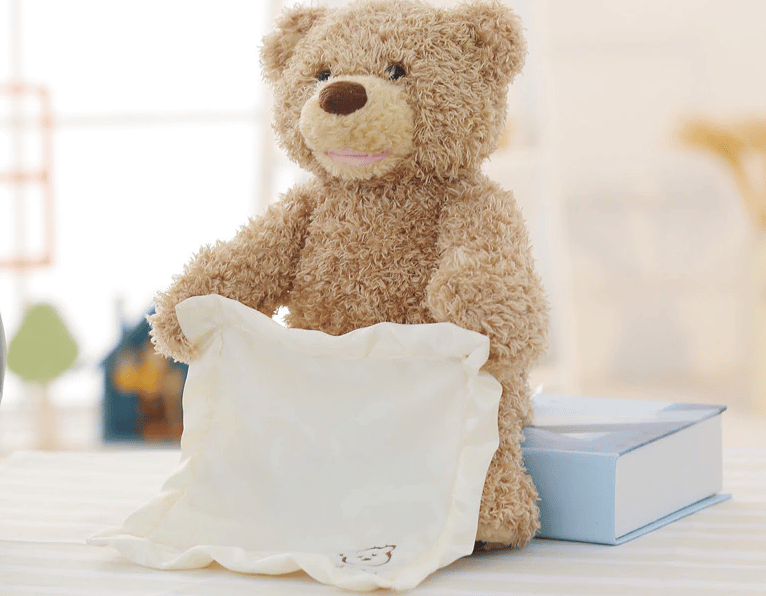 Does your baby like to play Peekaboo? Then this adorable talking teddy bear is sure to please.
This is a rather special teddy bear. He is very shy! When you look at him too much, he hides his face with the cloth he holds in his hands.
With baby, this teddy bear will be tender and soft. By showing his cute smile, he will quickly calm your little one.
He will also entertain him with his favorite game: the Peekaboo. The cloth he holds in his hands isn't just there to cover his face when he's shy. It also allows him to play the famous Peekaboo game with your baby. Surely, your toddler will love it and will be happy all the time.
Finally, the reason why this stuffed animal is present in this comparison is because it is also a talking stuffed animal. This talking teddy bear will never leave your baby in silence. Your baby will even be able to give him big hugs. His soft and pleasant fur will offer him comfort and tenderness.
The Talking Christmas Hamster Plush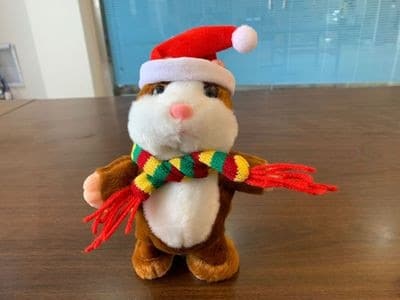 Looking for a gift for your baby this Christmas? This talking hamster plush will be perfect!
With its Santa hat and its cute scarf, it is all cute and cuddly. Impossible to resist its charm! Your baby will find this stuffed animal adorable and will love to cuddle it.
Plus, this cute stuffed hamster can talk. Say something to him and he'll repeat what you say, no matter what language you use.
It's a smart, responsive hamster. He'll keep your baby busy while you clean the house or cook dinner. Your toddler will never feel lonely with this interactive hamster.
He'll have a friend to keep him company and play with him during his playtime. This talking stuffed animal could even become his blanket. The toy that will help him develop his autonomy and fall asleep easily during his rest hours.
With a height of 15 cm, this plush is small enough for your child to take it everywhere he goes. His companion will be able for example to accompany him to the nursery to impress his friends. He can also take it on a trip during his vacations.
In short, it is an excellent pet for children. It works with batteries and is recommended for children of 3 years and older. You can also give it to a younger baby. However, you will need to supervise him when he plays with it.
How to choose a talking plush?
A talking plush, you can easily find one on the market. The models offered are indeed numerous. But they are also extremely varied. And this variety does not often facilitate the choice. However, it is important to choose the right interactive plush for your baby. And to find it, you must rely on some criteria, including the following:
Your baby's age
This is of course the first point to consider when choosing a talking plush toy for baby. The toy must be age appropriate. Otherwise, there could be a risk to his health and safety.
To find out if an interactive toy is suitable for your child's age, just take a look at its features. The recommended age range is usually mentioned.
The material the plush toy is made of
Your baby's interactive plush may be a kind of robot, but it is still a plush toy. As such, it should have a soft and pleasant fur.
Most importantly, it must be hypoallergenic. This way, there will be no risk of baby having an allergy to its contact. Don't forget to check this point before buying a plush for your little one.
Nowadays, the materials used for the manufacture of a talking plush are very varied. But for your baby's comfort and well-being, choose models made of cotton and/or with cotton filling.
The functions offered by the interactive plush
Can the toy talk? Can it sing? Can it dance? Can it walk? What else can it do?
These are some of the questions you should ask yourself when choosing an interactive plush toy. The best model is obviously the one that can do many things. However, you should not dwell too much on this criterion.
Also, don't forget that it's your baby who will be playing with the plush. Mom or dad will not be there all the time to turn it on or off as the case may be.
The ideal is to choose a talking plush that is easy to control and use. A model with a sound control will be perfect. Baby will have nothing to do but talk to make the toy interact with him.
The size of the toy
Maybe your baby will want to take the toy with him to the nursery, the park or on a trip. In this case, it's best to give him a stuffed animal with a relatively small size so that it's easy to carry.
It is also ideal to choose a plush animal that is smaller than your child. You don't want the toy to fall on him and hurt him.
The price of the interactive toy
Last but not least, the price is also an essential criterion to take into account. An interactive toy at a low price is not necessarily of poor quality. It can simply be a good deal. And for a talking plush for baby, Magic-plush.com remains a good address to visit regularly.
Conclusion on the top 5 talking plushies for baby
Here is a nice selection of talking plush to offer to your baby. It is a toy with which he will have fun and spend his time. Besides, an interactive plush is more than just a toy. It is also a great company for your child. It can talk with him, sing with him, even dance sometimes. All you have to do is find the right model. And the tips we've provided in this article can help you