Cuddly toys are invaluable to children. Not only are they their companions, but they accompany them throughout their childhood. Indeed, these toys need to be given more importance. On that note, parents should take care of these valuables of their children in the same way as the other valuables in the house.
In this case, the first way to value your children's stuffed animals and soft toys is to find the most delicate ways to store them. Several methods for storing stuffed animals will be proposed to you. Depending on your persuasions, you can choose the one that is best suited to your own situation. On the other hand, the options are carefully sorted to be appropriate for everyone's requirement.
Indeed, as usual, in this article, our effort is to provide the tips and advice. This is done so that you can have an idea of organizing the location of the cute little companions of your children.
Why is it necessary to store your children's stuffed animals and cuddly toys properly?
There are several good reasons why it is necessary to properly store your children's stuffed animals. Moreover, it is important to remember that every child's possessions are of the utmost importance. Moreover, in most cases, a child has several soft toys and stuffed animals at the same time. In order to keep the house in order, it is necessary to find theideal place to store the stuffed animals.
By the way, for sanitary reasons, the storage of your children's stuffed animals should also be a priority. Not to mention that these valuable objects can quickly harbor germs. As a result, they can infect the well-being of your children if they are not in a proper location. Besides, when you have an idea of the suitable storage, it contributes to the new decoration to the children's room.
To have a well organized house, you must give a good impression to your children. Indeed, you need to think of clever ideas to store his everyday friends well.
Discover the best stuffed animal storage for your children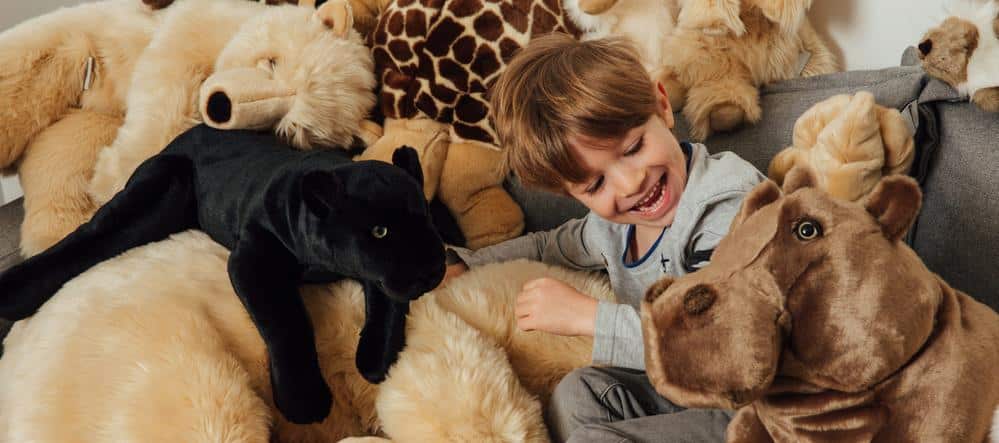 In some cases, you might have thought of the safest ways toorganize your stuffed animals and comforters. For those who are looking to know the most appropriate storage techniques, here are some examples that could serve as a great help.
Smart Idea #1: Store in a way that gains height
Since children have all kinds of stuffed animals at the same time, it's hard to find ways to keep them organized. Besides, children prefer to have their entire collection within their sight, especially at night. In this case, a better tip to store your children's stuffed animals is to make them take height from their own room.
To do this, you can hang his cute little friends of your children on one of the corner of your walls. Still, you have to make sure that your little girls or sons can see it to feel accompanied by their toys of preference. Then you can find a plush hammock. This is very much used to organize your children's room without constraining their requirement to sleep with all its squats without sorting.
This method is an ingenious idea and the price of a plush hammock is not expensive in the market. Besides, you can make such a place on your own without any difficulty. Some guides on the internet (Do it your self or DIY) offer free tips on how to build this storage.
However, you need to make sure that your children find that their stuffed animal and comforter are treated with care. In this case, if you want the storage to be done in the right order of art. You need to pay attention to the esteem that children give to each comforter or stuffed animal. In this case, the safest way would know how to organize together its companions.
Second tip: build a small room for toys
Many parents proceed with this wonderful idea to organize or store their children's stuffed animals and soft toys at home. This is an ingenious idea because not only can parents build a nest to delight their child, but they can also add a personalized touch to the storage. The most commonly used are wooden crates. In fact, you can adopt this little room of the stuffed animals in the corner of your children's. You can as well paint it with a cheerful color for example.
In fact, you only need to install small dividers and small compartments inside to store each stuffed animal according to its size. In this case, it is necessary to define in advance the number of toys to contain in the location. The size of the stuffed animals also adjusted to have a pleasant storage.
Depending on the decoration of your children's room, you can also build a glass plush room. In some cases, parents build for their children a small hotel for their plush. The decor is diverse and customizable if you are a handyman. If not, you can ask for the help of a carpenter and solicit the small wish by your children to make the task easier for you. It all depends on what your children want and your own imagination. On the other hand, you need to make sure that the soft toys and stuffed animals are safe and your kids can wish them a good sleep before bedtime.
Third storage method: put and store soft toys in a basket
If you are hesitant to choose between hammocks and the plush room, you can opt for basket storage. It is a perfect and widely used method to keep your children's stuffed animals in their bedroom. Secondly, it doesn't require any effort on the part of parents who are struggling to find the ideal way of organization. Certainly, not every parent has the time to make a stuffed animal guard. In this case, this trick is more accessible and practical. In any case, this idea avoids messing up the children's room and keeps those favorite toys safe from dust.
Moreover, you can find in the market baskets for stuffed animals of different kinds. You can indeed choose the patterns, colors that could satisfy your children. However, it is necessary to choose a plush basket according to its size. The large ones can obviously hold several stuffed animals and comforters at the same time, but the smaller ones can be easily slipped under the bed for example. In this case, the ideal size will be the one that could be easily transported in case of a change of location in the house.
If you move often for various reasons, this comforter storage is the most suitable. In addition, you can buy several comforter baskets at once if your children want to multiply their companions over time. Not to mention that the price of acquiring this type of storage is cheaper on the market and the choices are diversified.
Fourth tip: store your children's stuffed animals on a bench
If you don't have the time or the means, there is also a clever trick to organize your comforters. It's a bench in your child's room. Many people also opt for this method and it is indeed a good idea.
The main concern for storage is of course to avoid that these toys are not well organized. Indeed, the goal is also to erase your children's anxiety about their toys that they hold so dearly. By opting for bench organization, parents can keep stuffed animals and comforters out of reach of dirt. It also contributes to their children's desire to be accompanied by their little cuties. On the other hand, it is necessary that the stuffed animals and comforters are organized according to the preference of his children. So, you have a strong chance to satisfy the requirement of your children by using this method while putting order in his room.
This method can be used by all moms who want to pay attention to their children's valuables. It can also be a temporary storage before finding the most suitable one. Besides, it requires no more effort for those who do not have the possibility to build a real plush nest. However, it is recommended to ask your child's opinion on how to store his soft toys. This way, he can have a good order of esteem for each of his favorite toys. In any case, bench storage is also a better way to organize your children's stuffed animals without making many worries. This concerns both health safety and aesthetics at home.
Fifth tip for organizing your kids' stuffed animals: hanging storage
Another recommended way to organize stuffed animals at home is the hanging method. If you're looking for a simpler way to organize your stuffed animals, this is a practical solution. It prevents the inconvenience of messes in your children's room and keeps their favorite toys safe.
In this case, some people use nets to hang stuffed animals and comforters in one place. It depends on the organization and decoration in the children's bedroom, but the most reassuring will be to put them above their bed. Easy to obtain and adopt, the stuffed animal net is available in the market.
Moreover, this type of soft toy storage is easy to make. It is also more secure to keep clean and free from contamination these little possessions of your children. You can indeed rest assured to choose the right storage by accessing this option. Still, children like to keep their toys in view. So, it is necessary to find the right place to hang their soft toys and stuffed animals to prevent clutter.
Tip #6 for storing stuffed animals: use boxes
Just like the other methods suggested, storing stuffed animals in a box is also possible. Many people choose this simple technique to store their child's toys. Many parents also approve of this storage technique due to the fact that it is more than efficient.
To do this, you must build a box adapted to the size and number of stuffed animals and soft toys. Then, you must necessarily install an opening that is easy to access so that your children will not have the slightest difficulty in grabbing their prized possessions. In most cases, parents use a curtain to cover the stuffed animals. This way, they are within easy reach of your children, especially for the younger ones.
To better keep the decor in your children's room, the choice for storage in the hut is also well advised. You can equip the box with a wheel and a stroller to move its location according to your needs. This way, you don't have to worry about cleaning your children's room. They can place their companions as well as they wanted.
And if you personalize your kids' stuffed animal storage: how do you go about it?
If you are more interested in delighting your children, you can probably imagine a personalized way to store your children's stuffed animals. Indeed, you are wondering for example about the best gifts for your children for a special occasion. In this case, if they value their toys, find an original stuffed animal storage.
Indeed, there are several ideas available to you to satisfy your little girls or sons. To begin with, you need to know their tastes, as all kinds of arrangements are possible. For example, little boys are more fond of superheroes and little girls have a hard time distinguishing colors. Indeed, you can turn to a specialist to make you the rare pearl. Several models are also available to help you choose. For example, you can have a lint box personalized according to the category of the latter. In addition, you can choose between the box for the zoo plush, the nest for the birds and the plush room for the figurative ones, etc.
To succeed in your customization, you absolutely need to find a qualified specialist. A good carpenter and designer can help you put all the chances on your side. One essential thing is not to be exaggerated. You have to remember that as a parent, you have to provide both a quality comforter or plush storage. It is also necessary that this one can put in safety this close friend of your children. By the way, think about both the pattern, design, color as a decoration and size. Also warn that the plush storage prevents dust from entering.
Conclusion on how to store stuffed animals?
Organizing stuffed animals and tidying up soft toys are two essential tasks that parents must ensure for the sake of their children. There are two main reasons why putting away your children's toys should be a priority. First of all, it is important to keep their valuables away from unsanitary conditions and to prevent them from catching a certain disease. In addition, it is fundamental that children learn to live in a well-ordered and organized room.
In summary, there are several more thorough methods available to you for storing your children's stuffed animals and comforters. You can choose from the six best ideas suggested for storing his stuffed animals. On the other hand, you can also customize a fetish toy storage for your kids according to your own inspirations. Good advice is made to help you and to satisfy your needs.
In short, according to your needs, your constraints and your concerns, the methods to organize your stuffed animals and soft toys, proposed in this article, are justified effectively. You only have to choose the one that is most suitable for you and your children. Besides, you can make a stone to two in the choice of your children's plush storage. In other words, you will satisfy your children and you can bring them a good gift on the occasion of a special event celebration for example.