Cuddly toys are the beloved companions of our children. They can't be separated from them wherever they go. Whether it's day or night, our children want to have their stuffed animal at their disposal. For a long time, children and stuffed animals will be the best friends in the world. Moreover, stuffed animals have always been a great support in their psychological and emotional development. That's why we want to offer them the softest, most pleasant and most adorable reversible octopusthe softest, the most pleasant and the most adorable.
So, give your children the best plush to let them know our love for them. They will get the attention they need when you are not around. Even if the plush doesn't replace you, it will be very effective during nightmares or important moments in their lives. Just like teenagers need a diary, well, our children will also need a plush toy. Today, we bring you the most adorable stuffed animals. The reversible octopus plush, the plush that will meet all your expectations. This article will give you all the necessary data about this plush.
This way, you will be sure to buy the right plush for you. You won't regret spending money on this marvel. Maybe you will even buy some for yourself. That's why we're going to tell you more about this plush. Why should you buy this one instead of another one? What would be the best choice among the different kinds of reversible octopus plush you can afford? Well, we are here to help you find the one that will make you and your family happy.
What is a reversible octopus plush?
When we want to buy something, we will be more reassured than when we really know what it is exactly. No one wants to buy a piece of clothing without knowing the conditions of maintenance or the quality of the product. Well, it's the same for stuffed animals. We can't convince you to give one to your child if we don't tell you exactly: what is the reversible octopus plush. So, take note, remember, be reassured we are here to give you all the necessary information. So you will be sure to give the best plush to your children. And then without fear and with certainty, you can go and buy it on our website.
A plush of any originality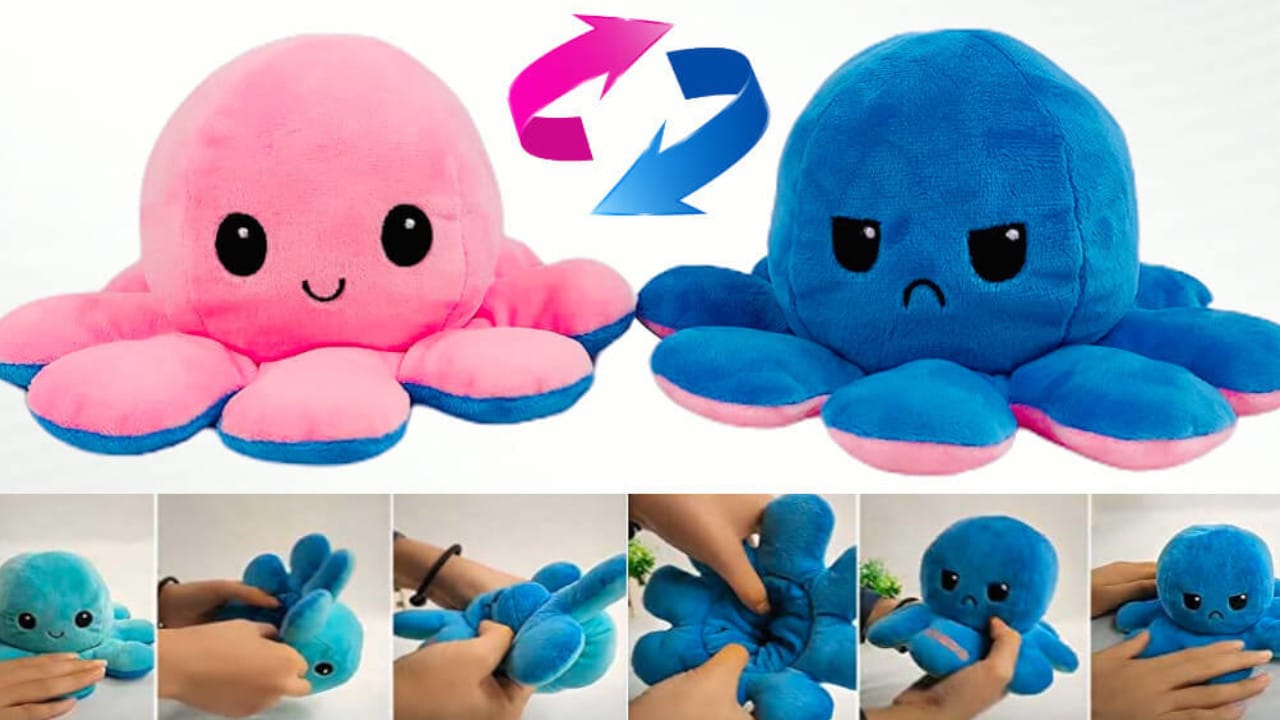 As its name suggests, the plush is in the shape of an animal: the octopus. It does not have very long tentacles. In fact, it is very cute with a rounded body and short rounded tentacles numbering seven. The reversible octopus plush is so funny and cute. So you can rest assured that even as an octopus, it won't scare your kids. More than a simple toy, it is a therapeutic tool used by many parents concerned about their child. Since it is reversible, it has two sides, which help express emotions without saying a word. But the other side also helps to strengthen self-understanding. Yes, through the two faces, you or your children can make others around you understand how you are currently feeling. It helps us express emotion more than the physical.
Very soft and pleasant to the touch, it has been specially designed to accompany you every day of your life. By its softness, it will not disturb the sleep of your children, on the contrary, it can be used as a doudou. Whether your children are happy or sad, the octopus plush is the one they need. But also so that they don't feel lonely, this plush is the perfect companion.
With its adorable and friendly face, you can't resist. The reversible octopus plush is currently one of the most sought-after toys. As the name suggests, it is reversible. This is one of the pluses of this plush compared to others. It represents in its two faces, two faces: sad and happy. We have never seen a plush as such, hence its originality. In addition, it is suitable for all ages: young and old.
A plush toy that is both entertaining and therapeutic
Cuddly toys have always been a means of expression for our children. Well today, the reversible octopus plush revolutionizes the means of communication. Because, without saying a word, your child can express what he feels. To help you and your introverted children, she is there. When we don't know what to say and we want to understand our feelings, she is ideal for that. When we are angry or sad, we don't know how to express ourselves. Well, our children often face this difficulty more than we do. That's why the reversible octopus plush is one of the most popular methods for parents.
While changing color, it changes face: it goes from "happy" to "angry" in a single gesture and vice versa. When your child doesn't know what they really feel, the plush is there to help them. All they have to do is turn the plush and then we know what they are feeling at that moment. When your children get upset and you want to make them laugh, you can turn the smiling face of the plush yourself. So, either way, this stuffed animal is a great support.
Plushies are your children's heroes. Because they cuddle up to them when they are scared or lonely. For the older ones, the octopus plush will also remain an original decoration in their room. So, for your children or your teenagers, this plush is the one you need. What more can we ask for than to have a toy that will help our child to make their feelings known. Plus, it looks great in their room. Not to mention, this stuffed animal is convenient to carry wherever the kids go.
Other options if you buy an octopus plush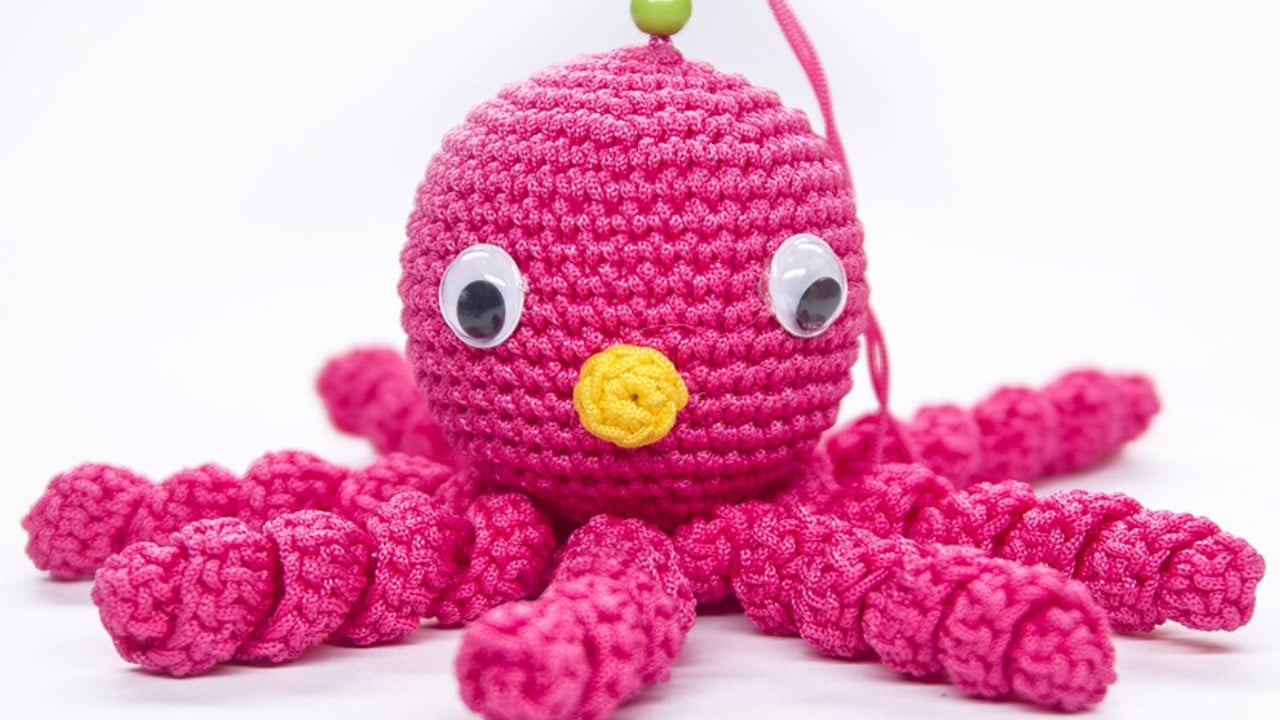 First, there are several colors available to choose from: you can have a purple-blue, yellow-orange, pink-green, pink-blue, gray-black, blue-green, red-black, pink-turquoise, gray-white, blue-violet color. So, you will have free choice of color whether it is for little girls or little boys. You can also have it in gradient or glittery color. Color that perhaps will be more liked by your children. A color represents a mood that can be expressed by showing it. So, the best would be to buy it with your child, but have a wide range of choices.
It is perfect to play with, cuddle and/or even collect. This reversible octopus plush will also make a perfect gift for your kids, friends or even your partner. It is incredibly soft, because it is made of polyester. Its unique composition makes it very pleasant to the touch and very cuddly. You can also rest assured that it is not toxic at all, on the contrary, the texture is of high qualitý. The octopus plush is made of durable extra soft plush fabric and stuffed with high quality PP cotton. It is cute, fluffy, smooth and comfortable. Washable and easy to clean toy.
Next, let's talk about its size. It has a dimension of 17 cm long by 17 cm wide with 11 cm height. Even though it comes in a large size of 30 cm, it is mostly the small size plush toys that attract the most consumers. So, when your children need them, you will have no difficulty in carrying them. You should also know that it is machine washable or washable with soap and water. With the right methods and the necessary gestures, the reversible octopus plush is back in its glory. It is recommended for children from 6 years old.
A fashionable plush to please everyone
Buying something fashionable and sure to please our children is our priority. So, for anything, we want to offer the best toy. Recently, plush toys have also become a trend that is revolutionizing the world of toys. The reversible octopus plush is a great success in stores and toy sites. Not only because of its color and the fact that it is reversible, but it has been a great success in social networks. On the screen of Internet users, the reversible octopus-shaped plush shows a smiling face, and the other a grumpy face. It was used by these Internet users on social networks to show their expression.
By buying this plush, you are giving a famous plush to your child. It will be even more delightful to older kids if you give them as a gift. For your children, having a fashionable toy will make them happy towards their friends. This product is especially for children and teenagers to create a fashion effect like hand spinners. It is totally in vogue at the moment, that even adults would like to have it in their office. In this case, it could be used as a decoration or to warn our colleagues of our moods.
As it is not very expensive, you can even select them. So, you will still please your children if you buy them reversible octopus plushies of all colors. Your children can choose one according to their mood, their clothes or simply according to their desire. In addition, giving them a plush of all kinds will make a beautiful decoration in their room. Apart from the happiness of having cute toys at their disposal, you offer a luxurious and pleasant room to your child.
Why you must have a reversible octopus plush at all costs?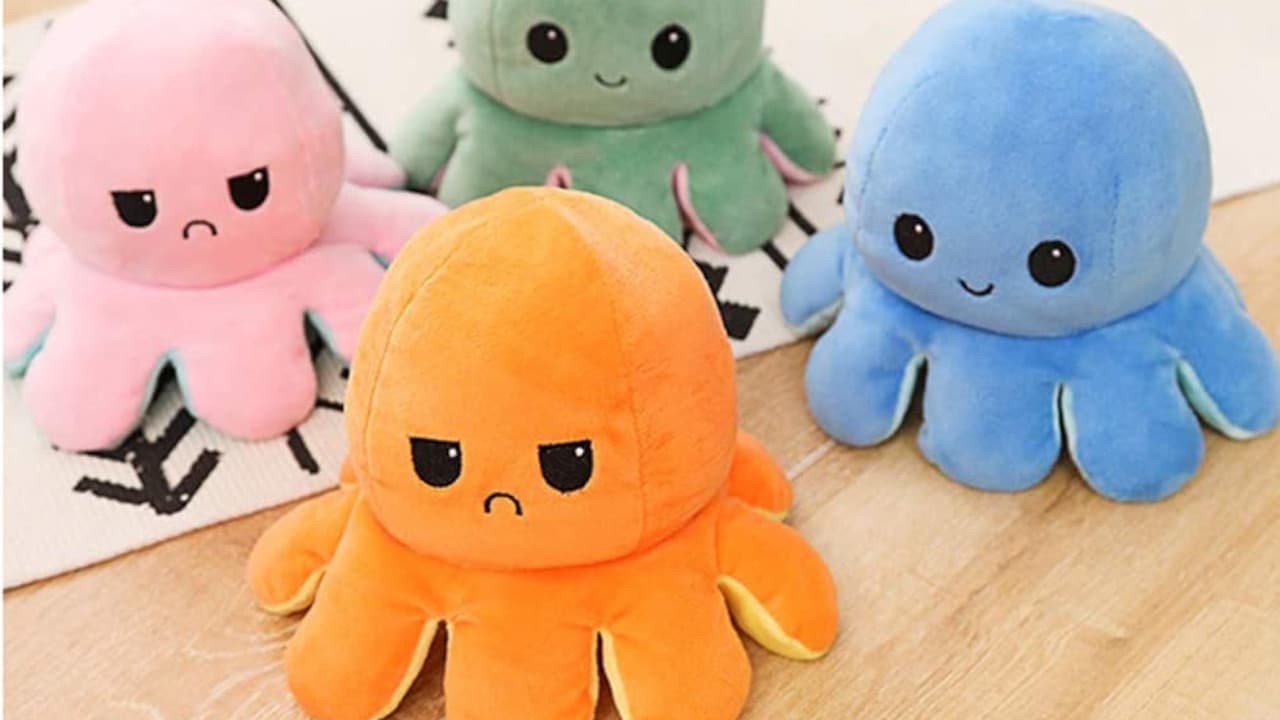 You are still not sure aboutbuying a reversible octopus plush for your child. Well, these few points that we will mention may convince you once and for all:
First of all, you should know that you can buy a reversible octopus plush according to your taste or your children's taste. Since it comes in many colors, you won't be able to say that you can't find the one you need. So, you will have a wide choice of plush.
Plus, it has a super soft fabric quality and is easy to turn. So, even for your kids' little hands, they won't have a hard time turning it over. So, you won't be afraid to buy this plush in vain. Also, since it is small, it is still cute and practical.
But especially to help you and your children during tantrums and screams, that's mainly why the creators made this special toy. It is rare to find a plush that is both therapeutic and a toy.
It is of high quality and yet easy to wash. Since it is made of durable plush material and is filled with PP cotton. So, compared to other plush toys, its size and good quality are a big plus.
It still comes in a large size. So, ideal for big kids or little ones who are more fans of big plush toys.
The reversible plush toy has a perfect shape. Perfect for playing or cuddling. The reversible octopus toy as we said expresses emotions: happy or sad. Without saying a word, we can understand each other, even to put a smile on our faces after a long day.
A few words to convince you
Let's summarize the main points you need to know about the reversible octopus plush. So we too are happy to help you find your happiness. This will persuade you to buy this plush.
The Reversible Octopus Plush is unlike any other plush we've ever known, because :
It is soft and super cute at the same time, by its small size, but also by the shape and design. It helps children to express their emotions. The reversible plush changes expression in an instant. Whether your child is in a good or bad mood. They just have to turn the toy upside down with its big smile, when life is good.
This plush toy with its two opposite colored sides is a way to communicate, without necessarily having to speak. So, it helps a lot the most shy or those who have a great difficulty of expression. To understand or to be understood, when one is happy or angry without saying a word. The children adore to cuddle this doudou and the older ones like to collect it. This toy that displays emotions and feelings is all the rage on social networks.
Conclusion on why buy a reversible octopus plush?
Compared to other plush toys, the Reversible Octopus Plush is made of durable plush material of very good quality. So, you won't have trouble caring for it without fear of damaging it. By the way, it will keep your child happy for a long time. The reversible octopus plush has become a real trend in the plush world today. And even though it's famous, it won't cost you much money. This little tentacled animal will allow your child to express his changing mood very easily. This will serve as a great help for parents who find it so hard to talk to their children on their bad day.
Reversible octopus plush toys are great for kids and adults alike. For the youngest, they are cuddly toys that make them feel less lonely and have a companion to snuggle with at all times. This plush is also a tool that helps children express themselves when they can't. Older children enjoy stuffed animals as toys. Later, their reversible plush will remain a decoration. Also, the plush will remind them of their earliest childhood. Designed with good materials, this plush offers better safety to your children. So you won't have to worry about your child swallowing or choking on it.
Finally, you still need to make sure that your child won't be dependent on the toy. Because, as they become more familiar and rely too much on this stuffed toy, it should become just a means of expressing feelings. By the way, it would be unpleasant for you and your child, if he could only express himself with this plush. And that later on he will have great difficulty in talking about his feelings.