Yes, not all stuffed animals are cute and adorable! There are some that will make you jump out of your skin just by seeing them. Why? Simply because they are scary.
But is that a reason not to buy them? Of course not!
A scary stuffed animal will always be useful for a few things: playing pranks on your friends, expressing your mood, playing the role of the bad guy in your little games..
Can we offer a scary plush to a child? The answer is yes! However, you shouldn't give him just any scary stuffed animal. Baby might not like it.
In short, if you are looking for a scary stuffed animal for yourself or to give to your child, here are our top 8 scariest models.
1. Feisty Pets: two-faced plushies that are scary!
It is impossible to talk about scary plush without mentioning the Feisty Pets. These cuddly toys which, at first sight, are soft and endearing, but which quickly turn into a scary monster.
Feisty pets have indeed two faces: one adorable and harmless and the other completely demonic. They will be perfect for a prank idea. Believe us, this scary plush will surprise your friends!
Give it to them as a gift by showing its cute face first. And when they least expect it, display its demonic face. You'll see, your victims will have the fear of their lives!
The same goes if you are taking a nap and someone comes to disturb you. Show him the monstrous face of your Feisty Pets and surely, he will go away and leave you alone.
In short, this plush which makes fear will help you in many situations. It's up to you to find the perfect moment to show his nightmarish face!
But in fact, how do the Feisty Pets work ?
It is very simple! You just have to press on its head and the plushie shows its ugly teeth and its threatening eyes. It becomes completely horrifying!
But of course, the stuffed animal is not like that all the time. As long as you don't press its head, it stays cute and adorable. You'll even love to cuddle with it. Feisty pets have soft, cozy fur that you love to snuggle with.
However, they are not recommended for babies and children, especially if they are sensitive.
Finally, it is good to know that Feisty Pets exist in many models. You can find them in the form of unicorn, dog, cat, monkey, lion, rabbit or dragon. You will certainly find one that will give you goosebumps and amuse you.
2. The demonic unicorn: a scary plush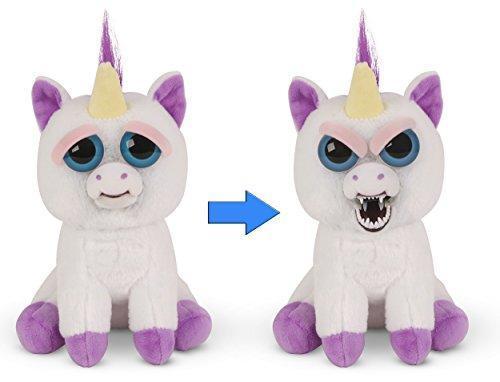 Usually, unicorn plushies are cute and adorable. But this one isn't as sweet and gentle as it looks. Behind her tender eyes and sweet appearance is actually a unicorn with a horrifying, even evil face.
Clearly, the face of this scary stuffed unicorn is not the kind of face we would like to see before going to bed. For sure, it will give us nightmares.
But that's no reason not to buy it. On the contrary, this unicorn plush is the ideal toy to scare little villains or to play jokes on your friends.
However, this soft toy should not be put in all hands. It should not be put in the hands of little ones. They might not recover after seeing his nightmarish face.
Or if you do want to give it to them, at least make sure they only see the soft and cute face of the unicorn plush. How?
By not simply pressing the plushie's head. That's the only way to keep it from showing its fierce teeth and dark eyes.
3. The dog plush with fierce teeth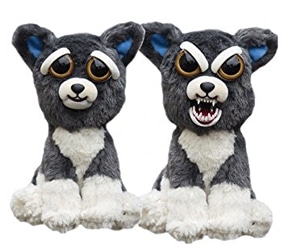 Another plush from the feisty pets family. Except that this time, it is a dog!
We all fall for cute and adorable little dogs. And so is this stuffed dog, at least as long as you don't press his head.
If you do, you might get the scare of your life. Why?
For the simple reason that this stuffed dog doesn't like to have his head pressed. And trust us, it will make him really mad. How mad?
To the point where he'll become menacing with his eyes and show his ferocious teeth.
So if you need a scary stuffed animal, this is a great candidate. However, its scary appearance does not prevent it from being soft and tender.
Like any other stuffed animal, it's okay to cuddle and kiss.
4. The Danganronpa bear plush: the scary teddy bear!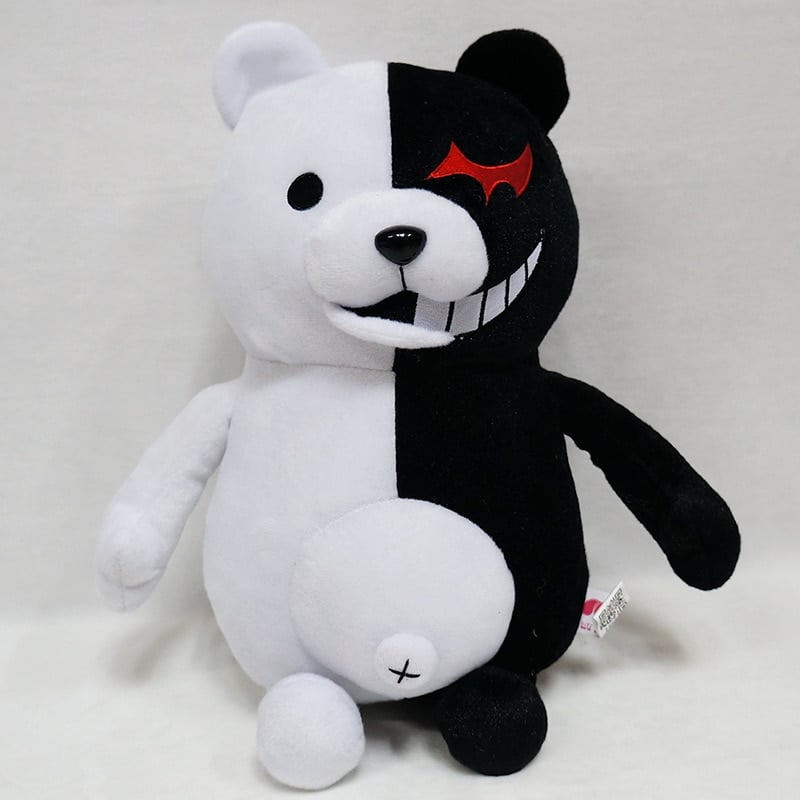 Are you looking for a scary teddy bear for children? This Danganronpa bear plush is one of them.
First, here is a little presentation to know him better:
This teddy bear different from the others is called Monokuma. He is an antagonist of the video game series Danganronpa. He introduces himself as the principal of Kibôgamine Academy.
But well, we won't dwell too long on that. What interests us with this scary bear plush is rather his appearance.
Monokuma is indeed a rather strange bear. His body and face are split into two parts: one white, cute with a sweet and adorable smile and the other black, scary with a red slit eye and an evil smile.
So this bear has two personalities and two completely opposite faces. And a priori, he is a bit scary.
However, if you get to know him better, you will know that this little bear is full of sweetness and tenderness. He will take good care of your child. He will play with him and give him lots of hugs.
5. Bowser dragon plush: a terrifying plush that spits fire!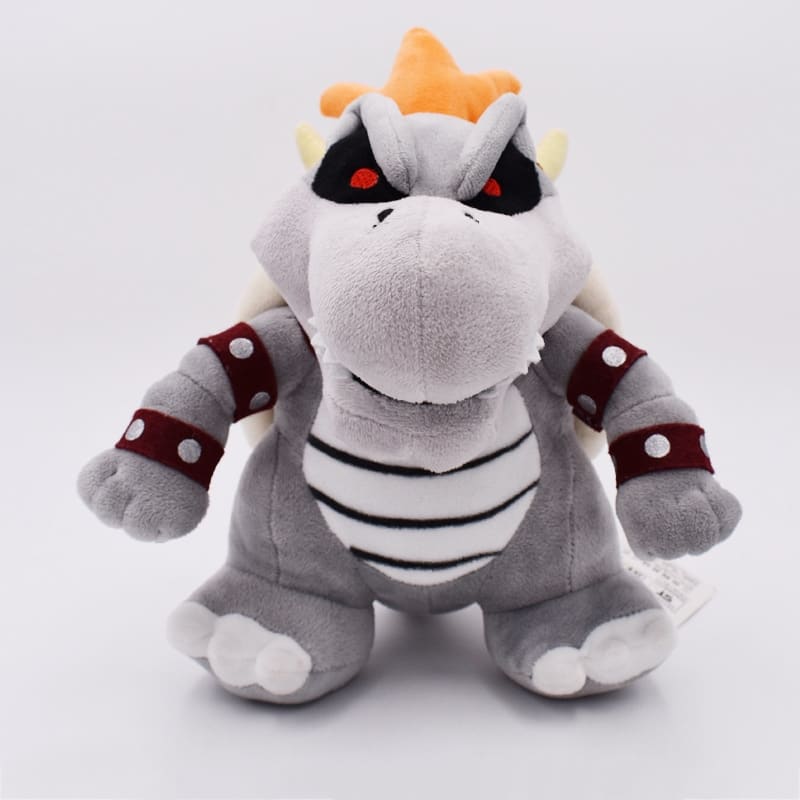 You need a bad guy for your little role playing games? We've found the perfect character: Bowser, a fire-breathing dragon.
With his black eyes and his big carapace with spikes, he will give his opponents the creeps. But for your child, this scary stuffed dragon will also be a great playmate.
Remember that Bowser is the main antagonist of the game Super Mario. He is both evil and villainous. This dragon has kidnapped Princess Peach. And with Super Mario, your child must fight him in order to get the princess back.
This plush toy will keep him busy during his downtime. But that's not all! Like any other plush toy, the Bowser dragon is also very soft and pleasant. He may be mean. But he has a soft and pleasant fur to the touch. Don't be afraid to cuddle him.
6. The teddy bear that sticks his tongue out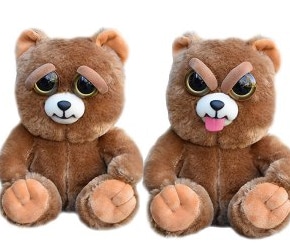 This scary teddy bear is part of the big family of Feisty Pets. Right off the bat, we can tell you that he is absolutely terrifying. But he can also be kind and funny.
Indeed, this plush bear has two faces. When you don't do anything to it, it is kind, soft and adorable. It makes you want to hug it and cuddle it.
But be careful not to press too hard behind her ears. This sweet and cute teddy bear can quickly turn into a horrible monster. When you press his head, the bear becomes threatening and sticks his tongue out at you.
It may not be a pretty sight! But it's still fun. Unlike other Feisty pets, this scary bear plush doesn't have scary, blood-curdling teeth. It just sticks its tongue out, which is both a little scary and funny.
But still, she's an adorable plush with soft fur. A lovely companion for young and old.
7. The cat plush with a devilish smile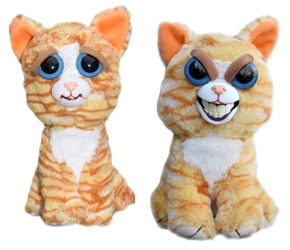 Finally, not every smile is adorable! And just take a look at this ginger cat plush with a devilish smile to be convinced.
The smile on this plush cat is scary. It's as if he's planning an evil plan to take over the world and destroy everything. It's really spooky.
But luckily, he's not always like that. This plush kid won't scare you with her ferocious teeth as long as you don't squeeze too hard behind her ears. Apparently, she doesn't like it.
Normally, she has a sweet and cute appearance. Looking at her sweet and innocent eyes, you immediately want to hug her and kiss her hard. But not too hard so as not to bring out her evil side!
In short, this scary stuffed cat is also one of the rare Feisty pets that you can offer to your children. His smile may be evil, but not scary enough to give your little ones bad dreams. His smile might even entertain them!
8. Reversible Octopus Plush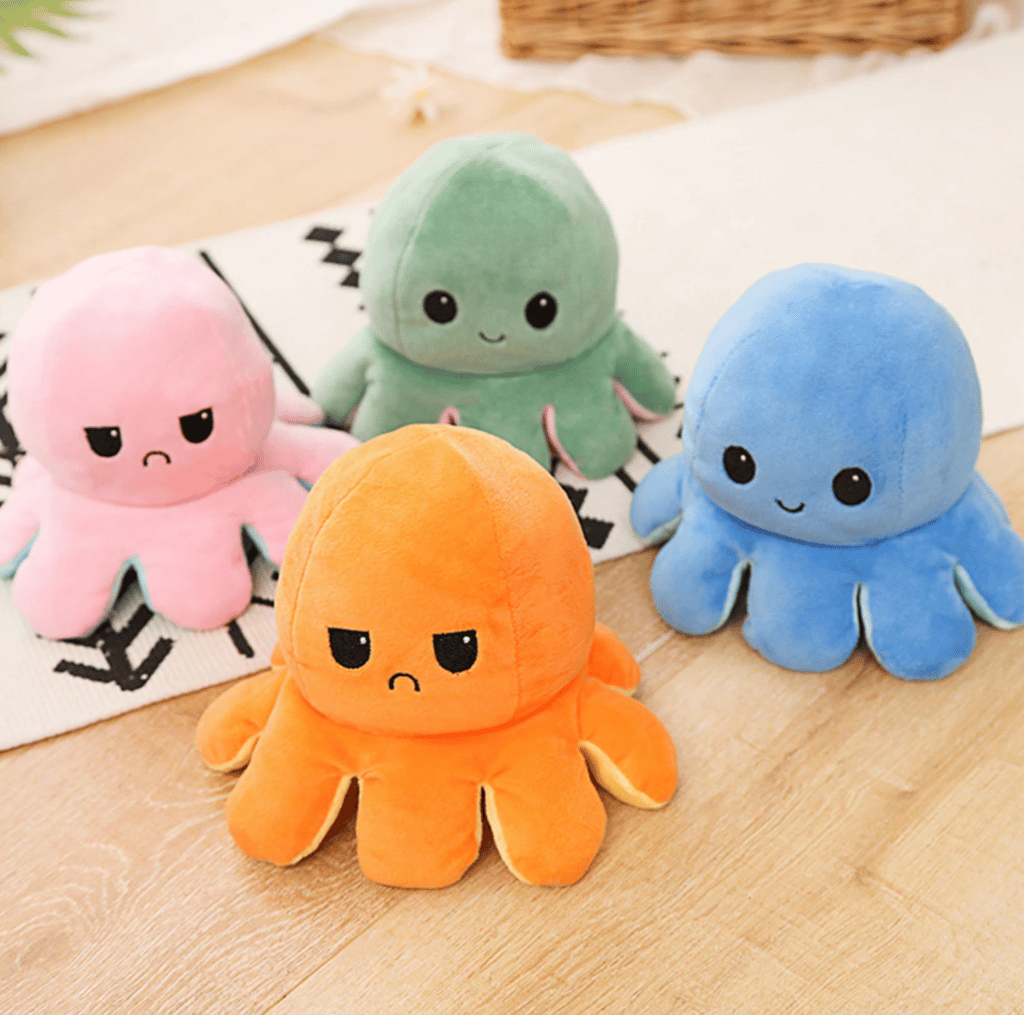 Here's another scary kid's stuffed animal. This cute reversible octopus plus h is perfect for kids, even young ones. But it's also great for adults.
Indeed, sometimes you would like to express your emotions without saying a word. And this unusual plush will help you. How do you do it?
It's very simple! When you're happy and in a good mood, you show your happy side with soft eyes and a big smile.
On the other hand, when you're pissed off and don't want to talk to anyone, just turn her around and her ugly, angry side will show. Your entourage will quickly understand!
Much more than just a scary plush, this octopus plush is a very practical communication tool. It will be especially useful for people who have difficulty speaking. But children lacking words to express themselves will also be able to use it to show their mood.
Finally, let's not forget that it is above all a plush. Its first role is to take great care of your child and make him happy.
Indeed, this reversible octopus plush will be an excellent company for your girl or boy. With its soft and pleasant fur, it will be able to cover your child of tenderness and cuddles. He will never feel lonely!
Note that this plush is available in several colors. Everyone will find his taste!
Conclusion on the top 8 scary stuffed animals
As you could see, a plush is not necessarily cute. There are also models that are scary. And a scary plush is not necessarily bad. It can amuse us in a completely different way. And the models we have described in this top 8 prove it. It's up to you to choose the one that suits you and gives you all the fun you're looking for in a plush toy.